Sport - Amelia District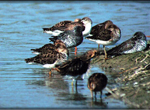 On foot and on horseback
There are a truly large number of tracks for excursions in and around Amelia (Lago Vecchio), on the Amerini mountains and in the territory. Almost all of them can be covered on foot, on mountain bike or on horseback. In this case the starting point could be one of the riding schools present in the zone.
Information:
Municipality of Amelia – tel. 0744.976224
La Cavallerizza Park – tel. 0744.970082
Bird-watching in the oasis
The nature routes of the natural oasis of Alviano run by the WWF, with starting point in Madonna del Porto di Guardea, allow the combination of excursions with bird-watching in an area of over 900 hectares, with an exceptional ecosystem. Along the nature routes, all marked, thanks to specially made observation points, as many as 160 different breeds of non-migratory and migratory birds can be admired.
Information:
W.W.F. Italia
Localitą Madonna del Porto
05025 Guardea
Tel. 0744.903715
Municipality of Alviano – tel. 0744.904425
Municipality of Guardea – tel. 0744.903521