Sport - Narni District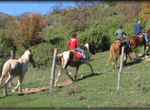 Horse riding in the middle of nature.
Hippotourism is the most practised sport in the territory of Narni. Lengthy pathways lead towards the woods and reach the highest peaks in the territory. There are several riding schools in the area which organise excursions and supply the necessary equipment.
Information:
Federazione Italiana Sport Equestri (Italian Federation of Equestrian Sports)
Piazza S. Bernardo 9 – Narni
Tel. 0744.717234