Sport - Terni District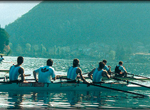 Piediluco, the home of rowing.
Lake Piediluco is home to one of the best rowing courses in Italy and in Europe.
Its stretch of water, among the green woods, can be used for rowing training sessions at competition level, but also for an amateur approach.
International competitions are held here every year and the National teams of many countries come here to train. The lake is a natural basin completely surrounded by green mountains and hills. The particular lightness of the water and the total absence of wind encourage the flow of the boats and make Piediluco an exceptional rowing course.
Il Circolo Canottieri di Piediluco (The Rowing Club) offers a rowing course in accordance with FISA regulations, with 9 lanes, 2 service lanes, starting stage, starter and linesmen turrets, arrival turrets.
For training there is a fully equipped gymnasium (rowing machines, outriggers, weights with changing rooms and showers and much more equipment to practise other sports, including a competition-size swimming pool.
Federazione Italiana Canottaggio (Italian Rowing Federation ) – Centro Nazionale "P. d'Aloja" – Vocabolo Quadri – 05038 Piediluco (TR)
Tel. 0744.369156 – 0744.369157
Fax 0744.368181
Exploring the grottas
Speleology is a fascinating world. There are over 200 grottas in the Terni District, and among the easiest to access and the most well-known are Grotta Eolia in Cesi and the group of grottas that stretch out below the Marmore Waterfalls, which are rich in stalactites.
Information:
The Bat Grotta Group (Gruppo Grotte Pipistrelli)
c/o cai Terni
Via Fratelli Cervi 31 – tel. 0744.286500
Speleological Group Terre Arnolfe
Via C. Stocchi 1 – 05030 Cesi (TR)
Trekking and Tracks
The entire mountain area that surrounds the Terni basin is crossed by numerous tracks, ideal for short, medium and long walks.
The most significant is the Martani Trekking which starts in Cesi and then climbs toward mount Torre Maggiore, to descend through the woods above the convento dell'Eremita (Hermit's Convent) towards Portaria and continues as far as Casteldelmonte and Scoppio. Trekking crosses over into the Province of Perugia and closes the circle on returning to Cesi for a total distance of 120 kilometres.
Other itineraries are those on the ancient Via Flaminia from Carsulae towards Acquasparta as far as Massa Martana. Otherwise there are the Franciscan tracks which climb from Stroncone and Pian di Ruschio and then descend as far as the Greccio Convent. Tracks marked also in the Valserra park lead to stupendous woods and the discovery of marvellous panoramas.
Information:
-CAI Terni Section
Tel. 0744.286500 – www.caiterni.org
-Martani Trekking – www.montimartani.it
Dying to Fly!
In Terni it is possible to do touristic flying with light aircraft. The new city airstrip "Alvaro Leonardi" in Maratta, in Le Sore area (near the E45 Junction and the Terni Orte ring road).
An airfield for ultralight aircraft is also active in Acquasparta close to the E45 exit.
Information:
Aircraft area (Aviosuperficie) "A. Leonardi" Terni
The Track Marathon
The track events that start from Terni are among the most engaging and consolidated in central Italy: La Maratona delle Acque (Water marathon) in May. Il Circuito dell'Acciaio (Steel Circuit) in October, and la maratonina di San Valentino (Saint Valentine's Mini Marathon) in February.
La Carsulana in May with other dates to remember, il giro del lago di Piediluco (Lake Piediluco Circuit) in May, il Percorso della Salute (The Health Marathon) in November and the environmental walks in the month of September.
Information:
- Amatori Podistica (Track Amateurs)
Via I. Bandiera 28 – Terni
Tel. 0744.733616-276979 – 360.960179
-F.I.A.S.P. Via dei Garofani – Narni
Tel. 0744.733616 – c/o I.P.S.I.A
Tel. 0744.403282
Rafting and canoe slalom
The Marmore Falls can be experienced in a sporting way; from the lower Belvedere (along the Valnerina highroad),  you can reach the Centro Rafting (Rafting Centre). Here, after a brief preparation and after having put on a waterproof suit and helmet, it is possible to row along the rapids of the Waterfall Valley in an extremely suggestive scenario, with the guide of professionals in the sector, among countless emotions, but in absolute safety.
Further down the valley, right under the Galleto hydroelectric power station, a canoe-slalom course can be found, where important competitions are held and the Italian national team often trains.
Hydrospeed is also available, a new and exciting, trendy way to cross the rapids: with a special suit, life-jacket, helmet and flippers, grasping a board floating along with the flow of  the River Nera.
Information:
Centro Canoa e Rafting "Le Marmore" (Rafting and Canoe Centre "Le Marmore") – Via Carlo Neri-05037-Papigno
Belvedere Inferiore (Lower belvedere) – Cascata delle Marmore (Marmore Waterfalls) – Terni
Tel. 330.753420 – 337.729154
Fax 06.86212249
Terni has many opportunities to offer those who practise sport or who wish to watch sporting events: from the more traditional, such as football (several pitches are available, five-a-side, too, as well as synthetic and natural grass ones) to swimming (inside or outdoor pools), from basket to volleyball, from athletics (in the renovated school playing fields in Via delle Mura), to fencing (with the Fencing Hall which hosts national and international competitions as well as being a training centre for champions), from tennis to cycling (with the new city cycling track "Renato Perona"), from clay pigeon shooting to archery. Furthermore, in the main city there are state-of-the-art facilities for more unusual sports: to start with the ultra-modern Table Tennis Hall in Via delle Palme, competition size and used as a national and international competition centre, to squash courts, or rolling courses, used for national competitions of this traditional sport and numerous bowls grounds.
Information:
- C.O.N.I. Comitato Provinciale di Terni
Corso Tacito 111 - Terni
tel. 0744.403279 - fax 0744.58622
- Federazione Italiana Tennistavolo (Italian Table-tennis Federation)
Via delle Palme 2 - Terni
tel. 0744.304679 - 0744.305973
- Federazione Italiana Sport tradizionali  - (Italian Federation of Traditional Sports)
tel. 0744.300127 - 348.6607392
- Palazzetto della Scherma (Fencing Structure)
tel. 0744.401197
- Federazione Italiana Bocce – (Italian Bowls Federation)
Via Ippocrate 58 - tel. 0744.277202
- Polisportiva Boccaporco – Bowls Ground
tel. 0744. 282808
Motorcycling, what a passion!
Terni boasts a great tradition in the field of motorcycling: Libero Liberati, born in Terni, was Italian Champion in 1955 and 1956 and World Champion in 1957. Many other champions followed in his footsteps and above all the passion for motorcycling has been consolidated thanks to the numerous teams and associations and to the organization of national events such as the Moto Trip.
Information:
- For the Mototrip: www.mototrip.it
- Federazione Italiana Motociclisti – (Italian motor cycling Federation)
Via A. Moro 18 - Terni
- MotoClub Liberati - Via Bertani 4 - Terni
tel. 0744.403365
- M.C.Racing - Via XX Settembre 22 - Terni
tel. 0744.227658
- Moto Club Orvieto
Piazza delle Azalee 4 - Orvieto
tel. 0763.305407
- Moto Guzzi Club Orvieto
Via Gonzaga II - Orvieto
- Moto Club Acquasparta – Classic Bikes
Via Marconi 5 - tel. 0744.930077