Archaeological Areas - Narni District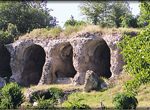 Ponte d'Augusto (The Augustan Bridge)
Admired by poets, writers, Grand Tour travellers, the remains of the magnificent Augustan bridge below the city of Narni have formed for ages one of the most well-known romantic images of Italy. The bridge, that crosses the River Nera over which the old Flaminia Road used to run, was built in 27 B.C. The remaining arch which has recently been restored, is more than 19 metres wide.
Information:
Pro Loco: 0744.715362
e-mail:
iatnarni@comune.narni.tr.it

Roman Ocriculum
With Carsulae, it is the most important archeological site in the area: the Majestic remains of the Roman city of Ocriculum (near modern Otricoli) are visible along an itinerary which stretches for about 11 hectares alongside the river Tiber . Temples, spa baths (II century B.C.) and several sepulchres can be seen. Many of the findings which come from Ocriculum are preserved in the Vatican Museums, among which the marvellous floor mosaic of the Spa Baths and the Giove of Otricoli (Jupiter of Otricoli).
Just a short distance away, inside the Municipal Hall of Otricoli, an Antiquarium has been organised which contains material found during excavations of the archaeological area.
Information:
tel. 0744.719628 - infoline 199.194.114
e-mail:
comuneotricoli@tin.it
In the Formina Aqueduct
In the village of Saint Urbano in Narni, a 13 kilometre tunnel was dug, on the wishes of the Emperor Cocceio Nerva in the first century after Christ, which guaranteed the water supply to Narnia. Today it is possible to visit the tunnel with an itinerary of over 2 hours.
Information:
tel. 0744.722292
e-mail:
info@narnisotterranea.it
Orlando's Chair
Along the Flaminia, bypassing Narni, going towards Rome, at km 83.500 in the Testaccio locality, on the side of the road there is a large block of stone, most probably a Pre-Roman altar. On the other side, a grotta appears and on its rocky walls, propitiatory symbols have been etched: one is a double phallus and the other is a half-moon, by some considered to be a female symbol. Popular fantasy has renamed the altar "Orlando's Chair", the name of the paladin who passed through there.
Information:
Tel. 0744.747247 – 0744.747269